Classic Slot Car Racing Association
Welcome to the home of the independent Classic Slot Car Racing Association. We aim to promote and support all forms of 'retro' scale slot car racing, both in the UK and also around the world. You can find out more about our aims here.
LATEST NEWS!   
Car Standards for 1-32 Can-Am RTR, and Policar GP RTR, cars have been added to the 1/32 Car Standards page.
The "Prototype Parade" section has been further expanded to include more than 400 plans. An alphabetical index is now included on the main Prototype Parage page, making it easier to find plans for specifc models.
A new database of post-war Grand Prix car dimensions has been added to the site - you can find it in the 1/32 Car Standards page. This is complemented by a complete pdf file of the hard-to-find Model Cars Scrutineers Dimensions published in December 1968.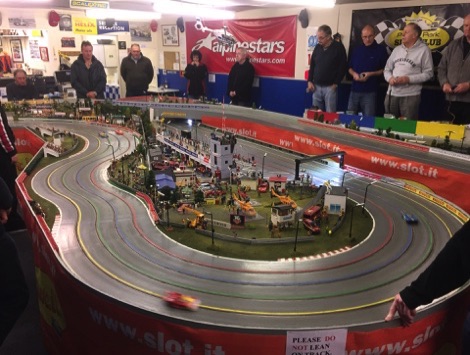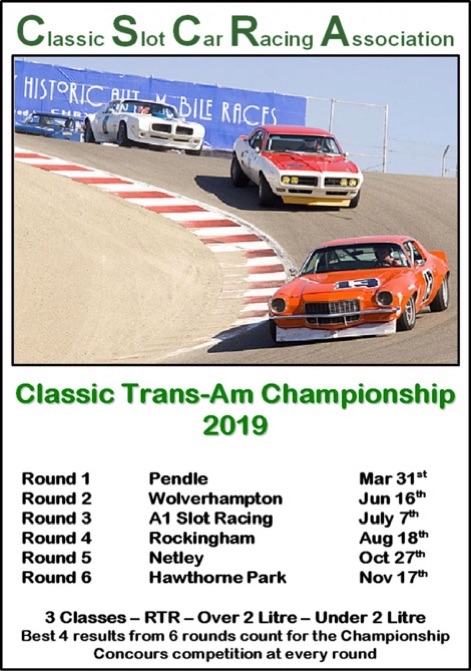 The cars of the Trans-Am series of the 1960's are perennially popular with slot car producers and racers alike.
COMMON CAR STANDARDS
CSCRA promotes and encourages the adoption of a common set of car classes and standards to make it easier for clubs to organise events which bring together people of all skill levels of building and racing. Common standards mean that enthusiasts can build cars knowing there are likely to be a number of opportunities to race them at open events. The current standards can be viewed on the 1/32 Car Standards and 1/24 Car Standards pages.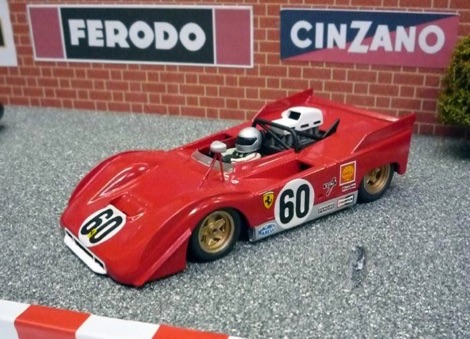 THE CLASSIC SLOT CAR RACING CALENDAR
We support all forms of retro slot car racing, so whether events are planned under the standards we publish here, or according to other rules, we are happy to include them in our Calendar.
A 1/32 Ferrari 712 seen at the 2012 Pendle Trans-Am meeting.
Photo courtesy of Dave Wisdom.
Racing at the 2017 CSCRA Classic at Presto Park Slot Club, Norfolk.